Got up at 530 am headed out o meet a friend of mine, he was taking me to a ranch he has permission to hunt.We had to be back home at noon so we didn't have much time.
1st set up we call for 15 mins, not seeing anything we decided to pull out so as I'm heading down to get my gear I look to the East and see 2 coyotes heaed out. I got plain busted. Well I hit the dirt and tell Stan to turn fox pro back on and he did they didn't want any of it.
So there I am laying on the ground on my right side and I catch movement to my left I look to see a nice male coyote running side hill and stopped 150 yds out almost in front of me. He's getting nervous So I dropped him where he stood. Shooting off your thigh is pretty tough but it worked.
Never saw the other 2 again. oh well 1 down.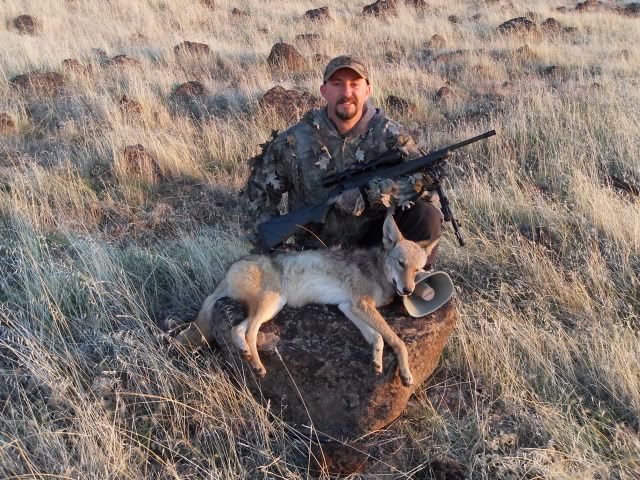 We then went to the other end of the ranch and tried again.
Again we sat for about 15 mins,Times running out on us so we begin to pull out. So before I go down to get my gear I again look around I spot 2 coyotes coming in we sit down and call some more Stan gets a broadside shot but he cant get his sticks in place so he takes an off hand shot and misses @125yds. I miss the second then he misses again 2 400yds. Next time they drop.