Back at it this morning with my buddy Don and my dog Sam.
This 1 happens fast..........
We get set up behind Dons property in a small clearing surrounded by manzanita and oak.
Don set up on an oak tree Sam and I set up in a manzanita bush.
Started with kitten distress and I'm still looking at my remote when I look up here 1 comes charging to the Mojo.....less than 30 sec.
Its coming from Dons side but it wont stop it passes Don and runs right by Mojo I'm on it and pull trigger......nothing happens safeties still on......I flip it get on it again it turns around and makes another pass at Mojo thats where I drop him 3ft from Mojo and 35 yds from me.
As soon as Sam saw this Coyote which was the same time I did he just stared at it coming in he was still quiet till the shot. As soon as the coyote went down Sam wanted it he jumped up and tried to get it Good thing I keep him on leash during the calling sets. He didn't like being held back but he's gotta learn.
We still called for about 10 mins then I let Sam do his job. He ran right to the downed coyote grabbed it up by the neck and gave it a few shakes...I had to call him a couple times but he finally let the coyote loose and came to me. So he's learning.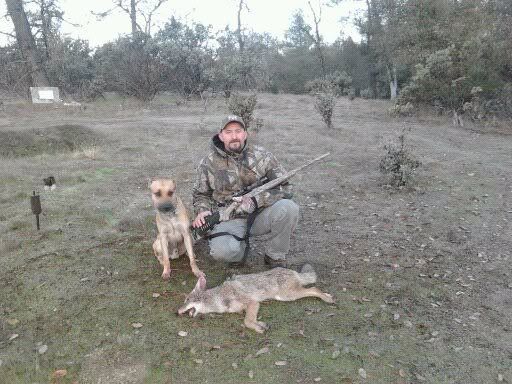 Don wants to change my name to DAWG HAWG now cause even when the coyotes come from his side he still don't get a shot off. We been hunting alot together this year and he's only nailed 2 or 3 yotes to my 20 or so.