Well a day that started out with me being late to our meeting spot,I got a call from BPS as I'm getting gas in Red Bluff,He says to hurry up they're howling all around me.
I get there and we made tracks to our 1st set up.
Now this spot is a good one this time of year, lots of cows range it. I have also figured out that if you're not willing to stay this spot for at least 30 mins then dont bother cause you'll get busted when you get up.
So I start howling, no response decided to use rabbit distress, 20 mins . nothing. so I'm sitting there nothing playing just looking around and thats when I see the coyote.
All the way across the canyon about 300 yds away there is a coyote sitting on his butt staring across our way. I play Vole squeeks and it comes down about 30 yds closer and for what ever reason it just stopped behind a bush and gave me no shot. It just sat there for a few mins. and then got up and left the way it had come while never stopping again. :censored[1]:
So knowing what I know about this spot We stay put. I howl some more still no response but I stick to it. after a few more mins I select female whimpers on the Fox Pro a couple mins. later I spot a coyote moving through a saddle and in to the drainage, its coming from Lee's side so the way its coming in I think Lee's gonna get a shotgun coyote........NOPE
Lee didn't see it till it got into the bottom and it didn't stop and continues over to my side where I had to bark several time to get it to stop. Once stopped I gave it an 87 Gr.vmax. A nice 150 yd shot. 25 mins when I fired, It was 16 mins when I saw the 1st one and this one is definetly a different coyote as its lighter in color than the 1st one was.
So I cut Sam loose and we went to get coyote, It took Sam a little while to find it but with me walking towards downed coyote and helping Sam out with guidance he hit its sent @ about 50yds away and went right to it and ruffed it up a bit.
So After we get yote up to where Lee was waiting I head up to get my back pack and chair,I'm coming back and Lee's telling me to stop he sees another coyote in another saddle to the East of where we were standing broadside but as fate would have it just as he got on it it bailed over the back and gone. :signs1111cr:
1st set 3 called 1 down. Not bad for being late.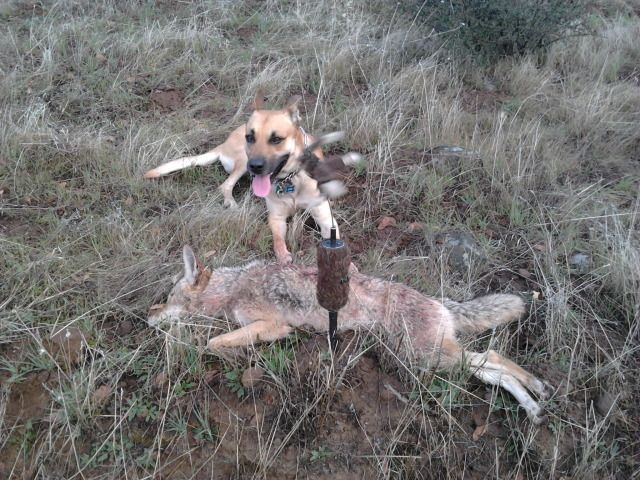 Off to the next spot. We set up s few miles up the road in the next BLM spot.
I had the down wind and Lee took the upwind.
Started with some howls again and got immediate responses from 3 different directions. Feeling good about this one. After Cottontail for 10 mins and Jack Rabbit for another 10 I went back to howls. played with those then decided after 23 mins I'd play pup distress and all I can say is WOW..............................
Within seconds I catch a Coyote blazing a path way across this pasture head right for us at mach3. So I've got it in my scope and I'm tracking it and a thought occurred to me that i haven't looked at anything but this one coyote for a little bit so I remove my eye from the scope and right ther about 200 yds in front of me is another coyote and its coming in trotting. So I have a problem.....Lee and I were looking at different coyotes he didnt know there was another.
When the closer one stopped 120 yds out Lee didn't have a shot and I lost the one farther out so I was gonna wait and I told Lee that. He was sitting to my right not far away and we could talk low.
But then Sam caught their scent and he stood up, Not fast mind ya but he slowly stood up and looked out in the direction the close coyote was. Well that coyote saw Sam move and locked on to our postiion and I wasted no time I got on it and dropped it. Only had a head shot as it was standing in a low spot and made a nice 120 yd head shot.
Other coyote high tailed same way as it came in.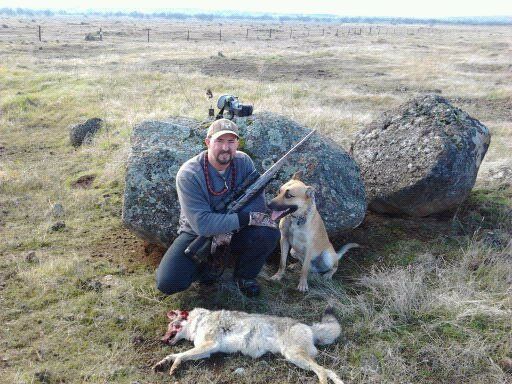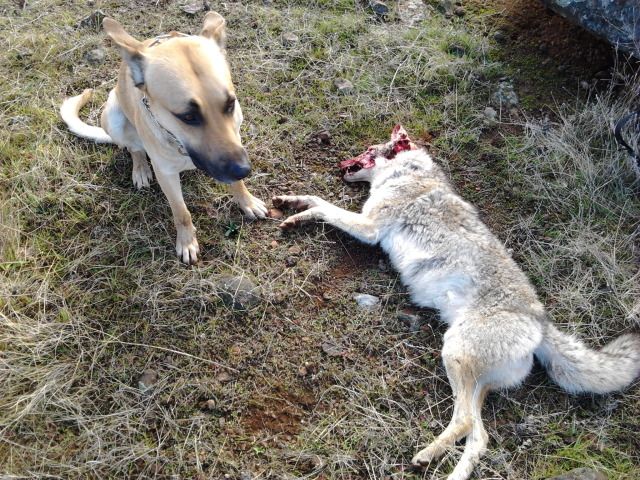 So work with Sam is fun. He really wants to please he's just still figuring out what to do. He is eager and he finally won't jump up as soon as a shot's fired. He still heads off in the direction I'm facing with my rifle but distance is a problem as he's looking for a coyote as soon as he's off and running so he zing zags across ahead of me until he hits scent.
This is only a problem cause he runs 20-30 yards in every direction trying to fins scent. Both times today he found the coyote but he did better searching for the 2nd one. He found it sooner and farther in front of me with very little encouragement from me.
He comes on command more now as we've been working on that and staying commands.
As for Lee he didn't get a single coyote today.......Sorry buddy......had a great time and look forward to the next hunt.
Frank