Took my 10 yr old out calling Tuesday,We called a young one right at the 15 min mark.
Thought my kid was gonna get his 1st but it hit our wind and changed his mind. It made a fatal mistake at around 300 yds it pulled up and I hit it with an 87 gr VMAX.
longest shot I have made that I can remember but even better it was a headshot.
The guy we were with paced it at just over 300 I thought it was around 200 but 300 sounds better.
2nd one of that morning my son missed it at around 100 yds,I think he got the jitters.
Here's the 1st one.
Next day my son was supposed to go with me again but he stayed up late with his sister watchin Harry Potter so he stayed in bed.
I blanked on my 1st, My 2nd I had another young 1 come in at the 5 min mark I made a clean 80 yds shot on this 1.
I'm training my dog to find em so I cut him loose after the shot to see how long it'd take him to find it and it didn't take long.
I'm loving the 87 gr vmax right now outta my Savage predator in 243 accurate and hard hitting. At 300 it took the cranium off just behind the eyes all the way back to the ears. it was gross so I positioned the Coyote so the pics wouldn't make anyone upset.
Here's the 2nd one..............shown with my hunting partner that never says no, My Savage mdl 10 in 243, My ozark trail bleacher chair I use for hunting and my back pack.....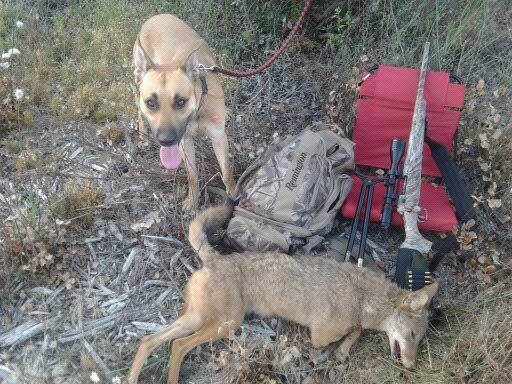 Also went out a couple weeks ago and got my Friend his 1st Coyote and this was also Sam's 1st Coyote.
Yote was shot just behind the ribs in the belly and it took off so I turned Sam loose and he trackrd it down and pinned it in a bush and bark.
Sam is just over a yr old so training and in field experience is a must.
Every yote we shoot and he's with I cut him loose so he can learn whats expected of him and thats find the animal after the shot.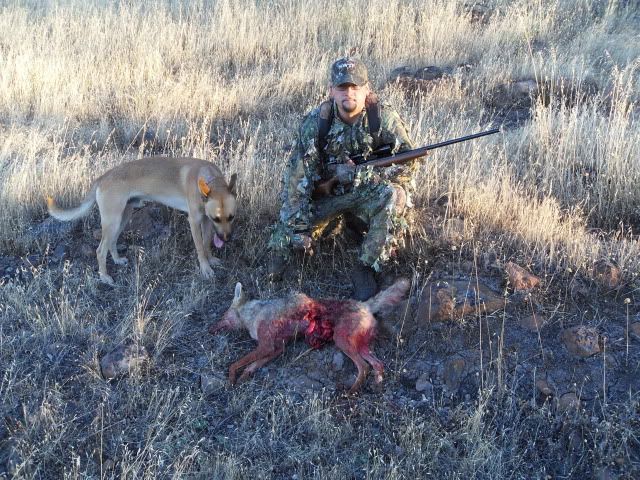 Hope this cures any withdrawls ya'all may be having.
Frank