Anybody have any idea what a Colt Frontier Scout model 62 with a 1965 cereal number is worth? Its in about 60% condition due to loss of blueing and one buggered up screw.
Got it on a trade, a few years back, and its been my favorite grouse whacker ever since. I love this thing. The guy that owned it before me apparently didnt know what solvent or oil was, But I got er all pertied up, and shootin' nice.
Great grouse gun, like I said, tho not ideal for ''long range'' so hopefully nobody gets too upset with me asking about it.
Thanks guys
__________________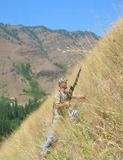 "Its not Rocket Surgery.....'
GOD,GUNS,&GUTTS MADE AMERICA, LETS KEEP ALL 3!winmag
"I have No idea why that cop made me ride in the back seat, when I Clearly called Shotgun!"