Re: Winchester XP3 Bullet?
---
To my knowledge, theyre only available in ''loaded form'' from Win. The gun writers sure seem to ''build them up'' in thier articles tho. They seem impressed. My dad tried some out in 150gr in his 270WSM, but the Federal Fusions shot tighter groups out of his rifle, and were alot less expensive, so he stayed with them till I got my reloading equipment. Now he has to drive all the way to Oregon to load his own ammo. hahaha.
__________________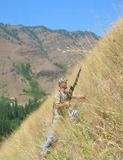 "Its not Rocket Surgery.....'
GOD,GUNS,&GUTTS MADE AMERICA, LETS KEEP ALL 3!winmag
"I have No idea why that cop made me ride in the back seat, when I Clearly called Shotgun!"