Re: Where to start? load building.
---
I dont load for the RUM, but IMO, everything starts with the brass prep, and absolute minimal tollerances. Second (IMO) is research for ''accurate'' loads with some ''heat'' ie; bullet/load combo's(including primer) back off the hot ones by 8-10% and work up to them watching for pressure and measuring groups. Third is seating depth adjustment to ''tune it'' to my rifle. Fourth I shoot/shoot/shoot to replicate results so I have the most accurate data to go by for what I need to change.
If nothin is working then I re-check and look for problembs like pressure from the stock on the bbl, or loose rings or mounts etc.

This is the meathod wich has worked for me. Other folks probably have more quallified responses due to more years of hand loading experience.
Good luck.
__________________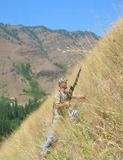 "Its not Rocket Surgery.....'
GOD,GUNS,&GUTTS MADE AMERICA, LETS KEEP ALL 3!winmag
"I have No idea why that cop made me ride in the back seat, when I Clearly called Shotgun!"