Re: Seating primers
---
Did you clean the primer pocket first? And are you seating them with a press or by hand?. Are you SURE you have the large primer seating RAM installed? You may be using the small primer RAM. That could get you in trouble. Even seasoned leaders have made that mistake.
I encounter "good" resistance when seating primers by hand for everything from 300Wby, to my 270WSM. I do it by hand so I can feel the primer seating. If too loose the brass gets tossed.
From what I've experienced, the primer should encounter enough resistance to leave it ever-so-slightly different from brand new. Almost looks just a tic flatter. Now I'm NOT saying "crush your primers, & run with it.
Just go easy. & double check your seating ram. I've never seated a primer from my press, so I don't even know how that should "feel".
__________________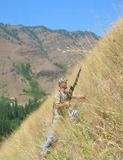 "Its not Rocket Surgery.....'
GOD,GUNS,&GUTTS MADE AMERICA, LETS KEEP ALL 3!winmag
"I have No idea why that cop made me ride in the back seat, when I Clearly called Shotgun!"