Like some have said the first thing you need to understand is that there are 2 measurements on a belted mag case that will have a bearing on what we are talking about. Headspace as defined on this website
SAAMI | Glossary
"HEADSPACE
The distance from the face of the closed breech of a firearm to the surface in the chamber on which the cartridge case seats. "
which is measured from the case head to the front of the belt because the front of the belt is what stops forward movement of the case in the chamber when struck by the firing pin. However on an unbelted case headspace is the gap between case head and the bolt face when the case is pushed forward to contact at the shoulder.
Now head clearance is the more important measurement and that on a belted case is the gap between the case shoulder and chamber shoulder
"HEAD CLEARANCE
The distance between the head of a fully seated cartridge or shell and the face of the breech bolt when the action is in the closed position. Commonly confused with headspace. "
The Hornady Headspace Gauge
MidwayUSA - Hornady Lock-N-Load Headspace Gage 5 Bushing Set with Comparator
attaches to your caliper and takes a measurement on (or close to) the datum line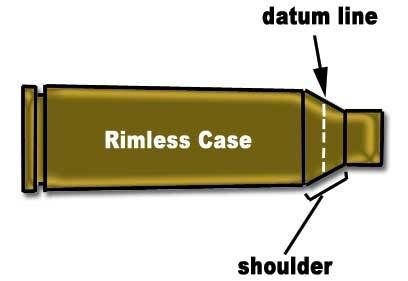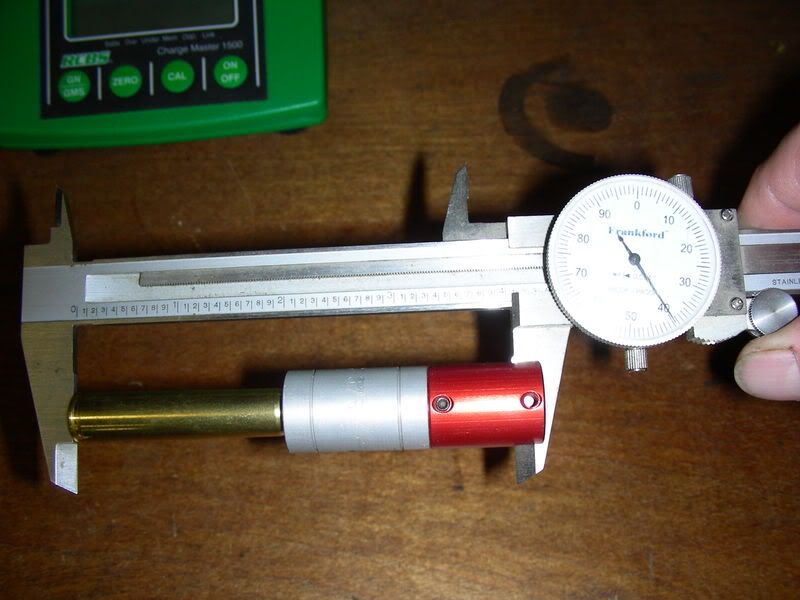 it will work on a radiused shoulder as well since it is a relative measurement and will give you information about how your specific shoulder is moving.
Using the Hornady Headspace Gauge on a belted case will let you know how much Head Clearance you have in your chamber between your new case shoulders and your chamber shoulder by keeping track of the measurments through 3 or 4 firings.
A typical set of measurements for a 300 win mag could go something like this:
new case - 2.253"
once fired - 2.270" (neck sized)
twice fired - 2.272" (neck sized)
3 times fired - 2.2725" (crush fit)
So the case will get tight in your chamber after a few firings and then you push the shoulder back .001" and the Hornady Headspace Gauge makes that easier to do.
When your case gets tight in the chamber you can "headspace on the shoulder" meaning that the belt no longer stops forward movement, the shoulder does, so headspace in your belted chamber has been redefined.
Working your brass the least possible when resizing will lengthen your brass life.