Re: Hornady max loads
---
Quote:
Originally Posted by
Grumulkin
1. Pressure signs are what you should be concerned about. If you're not having signs of excess pressure, you can increase the load.

2. The velocity you're getting is pretty imprecise in indicating what pressure the load generates. I never use a chronograph in load workup since it just confuses things.

3. In load workup, generally groups tighten up to a certain point as the load is increased and then start to widen again. I stop increasing the load where the group is the tightest irrespective of whether or not I've reached an allegedly maximum load.
Number 1 and number 3 nailed it. I here ya on number 2, but gotta dissagree somewhat. A chronny can be very usefull in some cases while working up loads. But I do whole heartedly aggree on shooting for groups not velocity and watching for pressure signs it how I always did it before I got a chronny.
__________________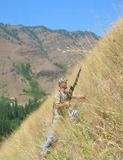 "Its not Rocket Surgery.....'
GOD,GUNS,&GUTTS MADE AMERICA, LETS KEEP ALL 3!winmag
"I have No idea why that cop made me ride in the back seat, when I Clearly called Shotgun!"