Re: Horizontal grouping
---
I read an article in either Field & Stream, or Outdoor Life, or North American Hunter, in August 2008 at the Las Vegas airport, while waiting to go on my bear hunt. It talked all about what causes Horizontal spread, Verticle spread and so on. Maybe you could search it.
__________________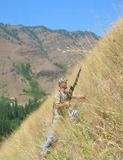 "Its not Rocket Surgery.....'
GOD,GUNS,&GUTTS MADE AMERICA, LETS KEEP ALL 3!winmag
"I have No idea why that cop made me ride in the back seat, when I Clearly called Shotgun!"