Weve all been looking forward to them for the last year and a half or more...... Ive about given up on them. But I am realy looking forward to thier load book. Maybe it'll re-kindle the intrest in the loooooooooong awaited 338 vld. We'll see.
I seem to remember a thread here on L/R/H about this years shot show, and one of the guys from Berger saying that the 338 will be out in 2010, and the load book was about complete exept the lawyers were going thru it............ If thats the case Im hoping we'll see the book before 2020
. I guess they'll be here when they get here, and theres not much else any of us can do but wait.......................................
__________________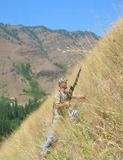 "Its not Rocket Surgery.....'
GOD,GUNS,&GUTTS MADE AMERICA, LETS KEEP ALL 3!winmag
"I have No idea why that cop made me ride in the back seat, when I Clearly called Shotgun!"