Re: 308. die vs. a 300. wsm die.
---
NO!!!!!!!!!!!!!!!!!!!
Unless your just de-capping with a generic de-capping die.
Any RE SIZING die will NOT work. Get a cartrige specific die for sizing. You will ruin your brass and probably your die if you try the other way. Eventhough both cases use a .308 cal. bullet, thats about where the simmilarities stop. Case diameter, shoulder, case length etc. are completely different.
__________________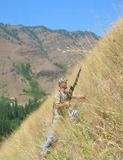 "Its not Rocket Surgery.....'
GOD,GUNS,&GUTTS MADE AMERICA, LETS KEEP ALL 3!winmag
"I have No idea why that cop made me ride in the back seat, when I Clearly called Shotgun!"