Quote:
Originally Posted by
shortpants
Do you think H-1000 would work in a 300WSM built on a long action? Being able to seat the bullet further out would allow for a heavier charge weight. If you had one in a long action how would you load for it?
I'm having this exact thing done with a 26" pipe, & between talking to brentc, & my smith, I'm still looking at 7828sc for the 200AB. Having a buddy run quickload whenever I can get ahold of him, but I doubt H-1000 would gain you anything with the smaller overall case capacity, even seated long...... But there's always the tamping bar method....
__________________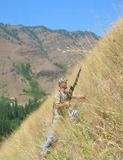 "Its not Rocket Surgery.....'
GOD,GUNS,&GUTTS MADE AMERICA, LETS KEEP ALL 3!winmag
"I have No idea why that cop made me ride in the back seat, when I Clearly called Shotgun!"