Re: 270 wsm debur chamfer
---
Quote:
Originally Posted by
Gitthatdawg
win mod 70 ss 22" barrel with brake. the guy swore it would shoot 5 in 1 but had not made it the range would need a boat with all the rain. it was made in new haven CT. with what he said was a 2.5lb trigger but man it is supper light but i am use to shooting factory triggers so i guess 2.5 would be.
Youve got good taste
. Is it the New Haven model with the black extractor claw, or the silver claw? Black was the earlier model. Both my Win 270wsm, and my dads Win 270wsm shoot sub MOA but dads is the earlier model with the black claw and it shoots tighter groups at distance than mine. Not that the claw makes any difference what-so-ever, nor does when it was made. Just a helpfull hint as to when it was made by the color of the claw.
I do love a good Model-70!!!
__________________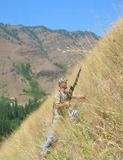 "Its not Rocket Surgery.....'
GOD,GUNS,&GUTTS MADE AMERICA, LETS KEEP ALL 3!winmag
"I have No idea why that cop made me ride in the back seat, when I Clearly called Shotgun!"