I shoot brass colored brass, my dad shoots nickel plated brass, and we make my cousin put a black belt around his with a marker, but theyre all 270wsm with loaded with 140gr Nosler Accubonds. My cousin actualy names his ''black belt bullets'' I call this one Jackie Chan, this ones Bruce Lee, thats Chuck Norris.....
Its hilarious to listen to him load his rifle
Your situation may be a bit different. A 7wsm wont (isnt supposed to be able to) fit in the 270wsm or 300wsm. Plus your 300wsm shouldnt be able to chamber in the other two. So aside from ''naming'' your ammo as some weird floks do........
Does everybody shoot the same style bullet, or can you load Nosler Accubonds in one (white tip) Hornary Innerbond's in another (red tip) and protected point Partitions in another for example?
It sure would keep the odd ''Hey, where's Van-Damm?'' questions out of hunting camp that way
__________________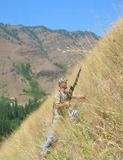 "Its not Rocket Surgery.....'
GOD,GUNS,&GUTTS MADE AMERICA, LETS KEEP ALL 3!winmag
"I have No idea why that cop made me ride in the back seat, when I Clearly called Shotgun!"