Hi Dave,
I built one using an aluminum tripod from a cheap astronomy telescope. It could take my weight so I started improvising the "upper" for it. It is quite light to carry in the field,packs good too.
This is still a prototype, itīs not pretty but it works pretty well especially when sitting. Aluminum profile,rubber blocks,bolts and some imagination needed. [img]images/icons/grin.gif[/img]
Testing Tikka .243 loads here @ 150 yds.
The bench you see in the scope view is at 75 meters, for people to adjust their "normal" moose rifles. We shoot a big game moving target test at 75 meters,thatīs why. It is required for a big game license.
Earlier this year... I got the tripod idea in this forum,here it is in a "pre-production" -stage [img]images/icons/confused.gif[/img] all the parts for the "upper" are on the table. Found most of them in my garage.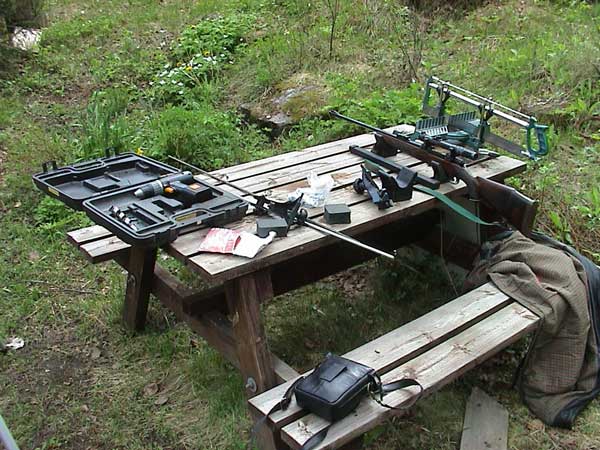 And here it is with my Sako TRG-S 338 LM. Now you can see that the vertical adjustment is not done yet,still under construction. That steel plate is there now, it will be replaced to be adjustable and lockable... dunno how,yet.
The hairy fella Rudolf is essential for tracking the moose in the dark. All in all a working combination anyway. Got a moose last week using this exact setup. [img]images/icons/grin.gif[/img]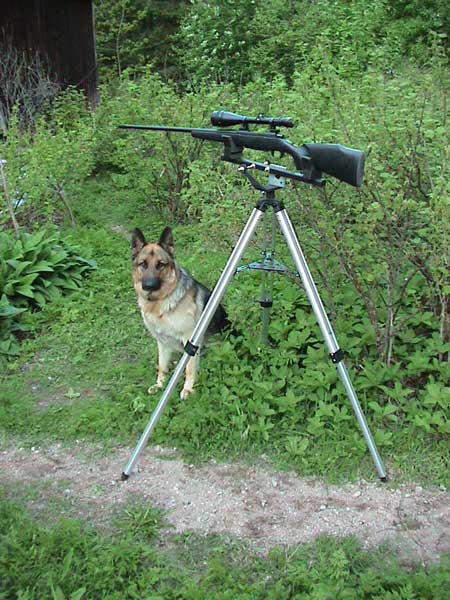 Hope this helps. Thereīs not a single "right way", just make sure it is steady and strong. [img]images/icons/smile.gif[/img]
[ 10-13-2003: Message edited by: Petander ]