Re: Portable targets for practice?
---
Hey, I have a jeep wrangler so space is limmited for hauling stuff to shoot long range. My setup includes few things. 1) 2'x4' piece of 1/2'' plywood painted white, with 2 shoot-n-see sticky backed targets pre stuck on and double secured with 2 thumbtacs 2) Three concrete stakes/form stakes 3) a 4 lb hammer.

pound 2 stakes in about 16'' apart. stand plywood against first two stakes and pound in your third stake in behind. All done.
Works awesome on uneven ground with form stakes, just level up the plywood and bang a nail thru one of the holes to secure it.

If I take a shooting table, I throw in another piece of plywood and 2 colapsable saw horses. Home Depot and Lowes both carry 2'x4' precut pcs if you dant have your own saw.
I like the political sign whackin idea!!
good luck
__________________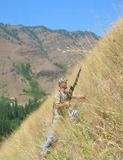 "Its not Rocket Surgery.....'
GOD,GUNS,&GUTTS MADE AMERICA, LETS KEEP ALL 3!winmag
"I have No idea why that cop made me ride in the back seat, when I Clearly called Shotgun!"