Tried several systems, this one is definitely idiot proof. Juat a loose-leaf, this one has side pockets for ballistic print outs etc. An analysis pad, 11x8½ with 50 pages and a pack of stickum page tabs. Can find everything at Wallys.
Mark the cartridge on the tab, leave as many pages as ya think you'll need, additional pages can always be added as needed. Stagger them as ya go. This particular log has three rows of tabs.
Take as much room as ya need for your data, not limited to a form like page. Tape the targets showing your best groups, throw the rest away.
Before I crack a can of powder, I'll take a minute and put my data in the log. Start with the date, if ya know what day it is ya can double check later to make sure ya entered this load.
I do the rubber band thing, a gun with a band on it in the safe means a clean barrel and needs a fouler.
Also like to shoot first thing in the morning, I keep targets out on my butts. I find posted signs work great for this. Sometimes they're up for several days before use, the Tyvek signs last not a problem. Pick a letter on the front to shoot at or flip em and mark what ever ya want for a target. Can be bought in rolls of 100 for about $25.00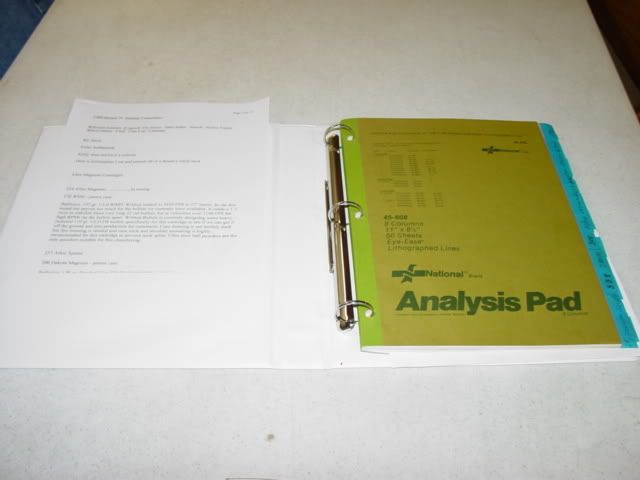 [IMG]http://i168.photobucket