Re: First build
---
Just have your smith work the rails, bottom metal& follower, & open up the bolt face some, maybe some extractor work, & bolt stop.
Had my long action Win-70, 30-06 turned into a 300WSM & couldn't be happier with the performance. Had it throated for 200gr Accubonds but I'm flingin 180's over RL-17 @ 3100+ into little bitty groups, so for now that's what I'm stickin with.
__________________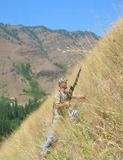 "Its not Rocket Surgery.....'
GOD,GUNS,&GUTTS MADE AMERICA, LETS KEEP ALL 3!winmag
"I have No idea why that cop made me ride in the back seat, when I Clearly called Shotgun!"