Re: Burris Scope Adjustment Question
---
1/4 moa= 1/4'' at 100, 1/2'' at 200, 3/4'' at 300, 1'' at 400yds and so on.
So 1 click will move bullet impact 1, 1/4'' at 500yds, and 2, 1/2'' at 1k.
Remember Burris FFII's are not well labled for scope adjustment, but theyre solid as a rock. I own a couple and love em'.
Clockwise =crosshairs up/ bullet impact down- elevation
Clockwise =crosshairs right/ bullet impact left- windage
Obviously counter-clockwise has the opposite effect on bullet impact.
__________________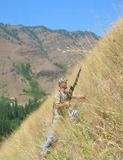 "Its not Rocket Surgery.....'
GOD,GUNS,&GUTTS MADE AMERICA, LETS KEEP ALL 3!winmag
"I have No idea why that cop made me ride in the back seat, when I Clearly called Shotgun!"
---
Last edited by winmag; 06-28-2010 at

11:36 PM

.