Like the title says, I have an 870 that I need to sell. I have had this gun for a long time and it has functioned flawless, but just got a Savage 220 20ga slug gun so this has to go. This has been my primary deer gun for the last 12-15 yrs., and has killed deer out to 200 yards with Rem. Copper Solids. The gun also seems to like the Hornady SST's.
Overall the gun is in great shape. The bluing is excellent, with no rust. The wood is decent with a nice finish, but has some scratches and nicks, and a couple spots of water damage on the buttstock where the wood swelled(see pic) from hunting in the rain.
-Remington 870 Magnum, 'wingmaster deer" model
-12 ga.
-24" Hastings Paradox rifled barrel w/ rifle sights
-reciever tapped for 1pc scope base(Weaver base included)
-rough estimate of no more than 400 rounds fired thru it. Probably closer to 300.
-$340 shipped to your ffl(from me) or $325 FTF
SPF
-payment by money order or FTF
-for sale on other sites also...First "Ill take it" gets it.
-I also have 4 new boxes of 2 3/4" Hornady SST's slugs I can sell FTF for $ 40.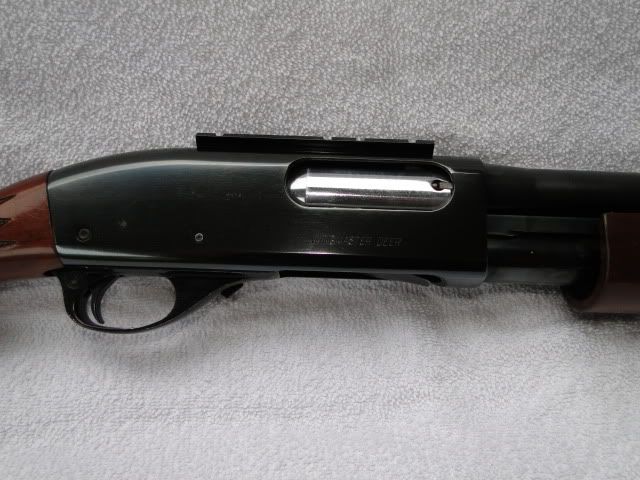 2 scuffs on this side of forearm, but not deep. Is one little chip at top though.
water damage to wood, but not real noticableunless looking at certain angle up close.