I have a SS Savage Model 16WW "Weather Warrior" w/ Synthetic stock For Sale. Trigger is not Accutrigger but, is set at 3.5lbs and is easily adjustable if you desire a different pull. Rifle is topped w/ Bushnell 3200 Elite 4-12x40 w/ Rain Gaurd. Rings are Leupold Matte Weaver Style Rifleman.
Stock has been sanded down due to the factory mold marks that the Savage stocks are known for. The stock has also had the voids behind the recoil lug filled w/ epoxy as well as epoxy mixed w/ small lead shot and poured into a couple of the voids to balance the rifle. A Sims Recoil pad has been attached as well.
Lee Dies, bag of 43 new WW Brass,30-50 once and twice fired brass, and a lee trimmer pilot and holder comes w/ the rifle.
I have had this rifle for approx 2 years. Recieved it NIB as a trade for a BAR and purchased the scope from Jon at The Optic Zone. Only been fired at the local range and back to the safe. I took it hunting only one time on an evening hunt and only saw a small buck so it hasn't been officially broken in yet.
Don't buy this rifle if you don't like the recoil of a Magnum. It's definitely got the punch of a light weight Magnum Bolt rifle.
This rifle has a fast barrel and Book velocities are reached well below maximum charges.
I don't currently have pictures of the rifle but will gladly take some and send them if you'd like. It looks new.
Here is a picture of a couple of the groups during load work: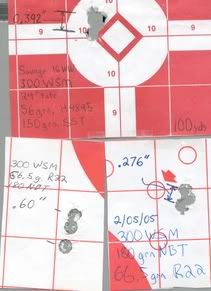 The group w/ 150 ssts was just luck. It normally groups like the other 180 NBT loads. It shoots sub MOA w/ the 180 NBTs on top of R22.
Just shoot me a PM if you'd like any more info.
$700.00 Shipped in Lower 48 OBO
Thanks for Looking and have a wonderful day.
Reloader