Here's an oldie but goodie. I purchased this rifle back in 1992. It was custom built probably around 1980-82. You older shooters, like me, will recognize the style from all the books and magazine articles that were produced back then. It was still OK to use walnut and rosewood.
I shot this rifle before I bought it. The seller had some 75 grn Sierra FB HP's that were loaded in 1982. It came then with a Unertl 12x scope. It shot 5 in the same hole.
This is one of the Flaig guns from that time period. Stamped Flaig's on the barrel. It stared out with an Interarms Mark-X action that was mated to a 26" Douglas barrel. The barreled action was reblued, you can tell from the washing out of some of the stampings on the action. The stock work was done buy a local guy that has since passed away. He was a pretty good stock maker and the wood to metal fit is nicely done.
I used this rifle until around 1996. I have not shot it since. There are a few nicks in the wood and the high gloss finish is worn off in a few spots but the gun is solid. The trigger guard/floorplate show some light marks. I replaced the Unertl with a Burris 6x18 fine plex Fullfield. One of the original Fullfields from 22 years ago. Added a Canjar set trigger.
Specs:
6mm/.284
Interarms Mark X action, controlled feed
26" Douglas barrel, measures .700 at the muzzle
1 in 12 twist ( I measured the best I could with the cleaning rod)
Canjar set trigger (I have it around 2oz. after setting)
Walnut with rosewood cap and grip
Push and twist swivels, (pretty fancy extra back then)
Burris 6x18 fine plex, new in 1993
Redfield mounts and rings.
RCBS Dies, FL, Neck, Seater....25/.284 Trim Die (to form neck down) The neck die does need an expander ball.
I also have a Stoney point "Chamber All" tool and a custom .284 case that threads on it.
I'll throw in about a half box of Sierra's and any powder I have left (powder is FTF only) and
around 120 cases that are either empty or loaded that you can pull.
I don't know how many rounds the previous owner ran through her but I doubt very many. He bought it because the builder needed money and he liked the way it looked. I probably shot 300-400 or so in the 4 seasons. The gun still shoots. I wish I would have saved some of the targets from when I worked up the load I settled on. 4350 powder and the Sierra 75 grn flat base HP.
[IMG]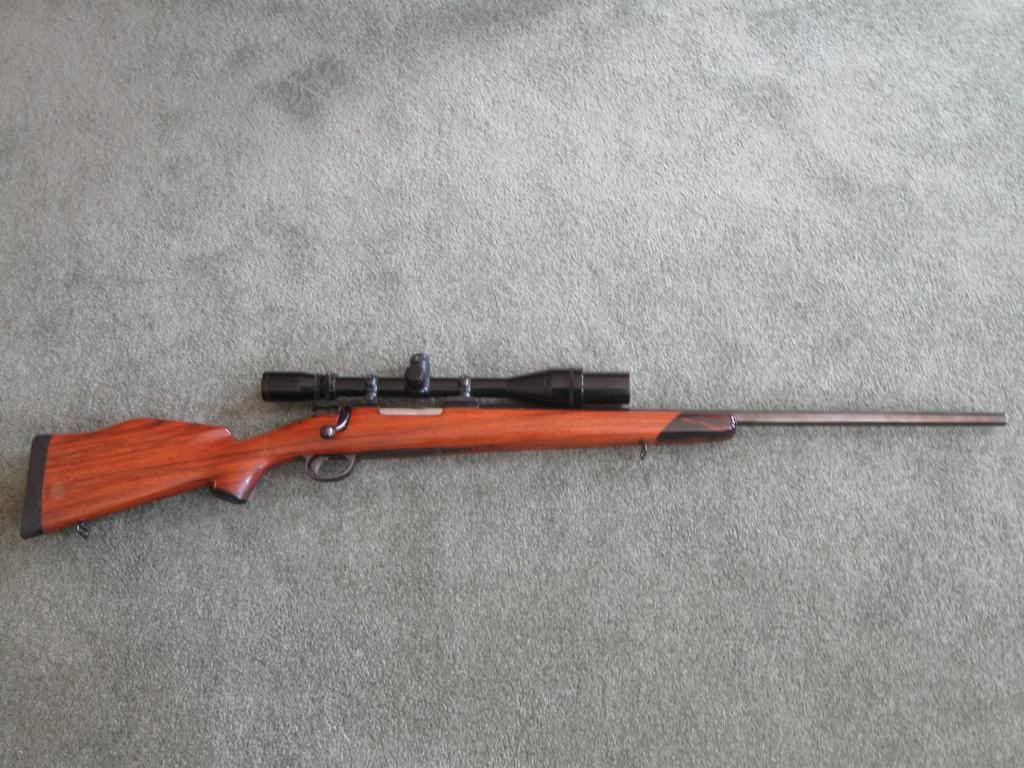 [/IMG]
More pics at this address:
http://s212.photobucket.com/user/AJ1...29103841168394
Asking $525.00 FTF. Located in SW Pennsylvania.
Buyer pays shipping if that is the way we have to go. Same state, no problem with USPS. Can't ship the loaded ammo unless UPS. Out of state your FFL must be willing to accept from a non licensee.
I will ship in a plastic case inside a cardboard box. I can get all the extras in the same container.
Contact me via e-mail at
AJ100x101@hotmail.com
or my cell 412-944-7014
Thanks, Tom