I have for sale a 600 in 350 Rem Mag and a 660 in 6.5 Rem mag.
The 350 is in excellent condition (98%+) with only a couple of very small handling marks, $1200.
6.5 shows hunting use, multiple handling marks, couple of small dings through the finish, some light bluing wear. $900 Scope not included but both have bases on them.
Both are plus shipping. Here is a pic of the pair and a link to more pics.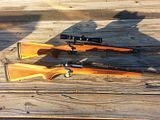 600 Photos by trcuda | Photobucket
660 Photos by trcuda | Photobucket