Re: LIKE NEW Browning BLR 270 WSM
---
Do you still have the rear sight?
What did you plug the screw holes with?
I had my heart set on another Mode-70, in 300wsm, but you just HAD to go & post this & get me thinking......(or was that lusting...?)
I hate you, but in a good way
Nice rifle!
__________________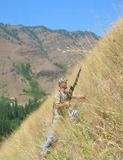 "Its not Rocket Surgery.....'
GOD,GUNS,&GUTTS MADE AMERICA, LETS KEEP ALL 3!winmag
"I have No idea why that cop made me ride in the back seat, when I Clearly called Shotgun!"