SOLD PENDING FUNDS
Unfortunately and with a heavy heart I have to sell my recently rebarreled by Terry Cross/ KMW 300WM. I need to do this to fund a Sponsor fueled project. Barrel has a documented 179 rounds and was broken in properly. 140 rounds were 190 FGMM, which shot great, and the rest were recent load testing with the 208 AMAX and H1000. Below is a group from today on a 1/2" red dot. It shows promise and I know it will do better.
There are some marks on the rifle behind the ejection port from brass ejection, which you can see in the pic below, but they don't effect performance. Barreled action finish done by Terry but I kryloned the DBM and base as you can see. A quick coat of krylon on the whole thing and you're set. I wasn't too worried about it as I was more worried about performance. Mags have been marked but some paint thinner should take that off without a problem. Rifle was made to be used and not hung on the wall or a safe queen. Might not be pretty but it will do what you need it to which is shoot.
Specs:
Rem 700 LA trued, bolt face trued, lugs lapped
Badger bolt knob (installed by GAP)
Bolt hanlde to body HD Rifles mod for strength
GreTan Lite Firing Pin and spring
26" 10 twist SS Krieger #10 MTU threaded for 5/8x24 w/thread protector
HS Precision 700P stock which has been skim bedded
Rem 700 trigegr set to 2.5lbs
Badger DBM (installed by GAP)
Badger 20 MOA base
Accessories includded:
2 10 round 300WM AI mags(NO I WON"T SELL SEPARATELY, SORRY and these are about $110
each
if you can find them)
2 5 round 300WM AI mags
Lucas bore guide
Harris LM-S bipod with Pod Loc
100 208 AMAX bullets
SOLD AS PACKAGE. NOT PARTING ANYTHING OUT
Shipped to your FFL in the lower 48 for $2400 which if you price out everything isn't bad (SCOPE/RINGS NOT INCLUDED) but if you want it all as a package we can talk. PM me if interested or with questions.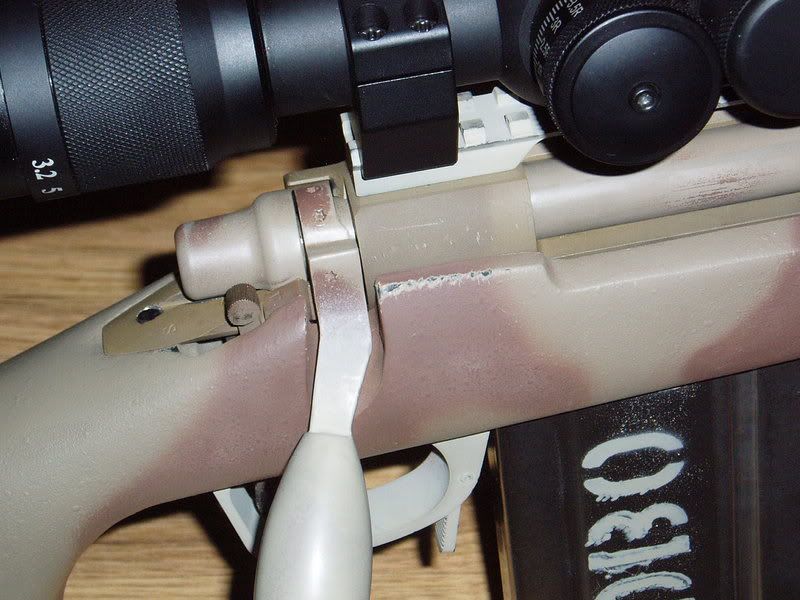 Red dot is 1/2" so group is about the same. I know it will do better but as I said I just started load testing.