Re: Win Model 70 Featherweight Bipod
---
I have the exact same rifle, & have no issues with my Harris bi-pod.

I will say that I learned the hard way NOT to pre load the bi-pod in any way what so ever, or my groups open up drasticly. There ain't a lot of wood up there, so the stock flexes pretty bad with any horizontal, or lateral load on the bipod. Anything but vertical load just kills accuracy with that stock.

But I love my featherweight!!, & it's racked up its share of Bears, & quite a few Deer. See my signature & you'll see why I like a light weight, hard hitter.
__________________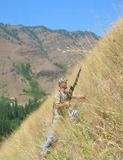 "Its not Rocket Surgery.....'
GOD,GUNS,&GUTTS MADE AMERICA, LETS KEEP ALL 3!winmag
"I have No idea why that cop made me ride in the back seat, when I Clearly called Shotgun!"