Lengthy smartass comment.
I don't like big dogs. I prefer cowdogs. Plus. 1911 or an XD trumps any giant turd factory.
Some folks keep thier insured firearms in safes because it beats hiding them in the closet....
If you ever get the chance, try un-bolting a safe from a concrete floor without opening the door. Heck maybe you could hook a tow rope up to your ox size dog, & try to pull it over.... Good luck.
IF you can get it un-secured, from its anchored place, how long will it take you to move it out of the house? I'll bet those professional thieves you interviewed wouldn't want to take that much time, or make that much noise. Maybe you should go ask them. You never know, they may give you a second interview. Oh, & don't forget to bring your dog, cause nobody wants to see you get hurt incase they decide not to.
Wasn't Clinton from Arkansas? Ya, I don't think is trust any politicians from Arkansas, or insurance salesmen.
__________________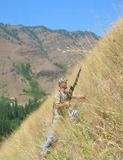 "Its not Rocket Surgery.....'
GOD,GUNS,&GUTTS MADE AMERICA, LETS KEEP ALL 3!winmag
"I have No idea why that cop made me ride in the back seat, when I Clearly called Shotgun!"