Re: ground blind cooling
---
Quote:
Originally Posted by
7mmpoppy
Just got my new ground blind and would like advise on how i might cool it off while hunting....... bought it so my 9 yr old girl can go with me but know it will be rough on her in the heat. are there fans that are quiet enough for hunting?
not sure if gun or bow yet, depends on location after scouting.
Never hunted from a blind, but Ive spent a bunch of time in a tent. There are battery opperated fans from Bi-mart, etc. that when kept on low dont hardly make a sound. Place the fan over a block of ice in a pan or cooler, and it works well to cool off a tent, even in Hells Canyon at 114+ degree summer time heat.
__________________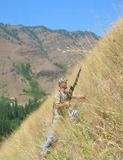 "Its not Rocket Surgery.....'
GOD,GUNS,&GUTTS MADE AMERICA, LETS KEEP ALL 3!winmag
"I have No idea why that cop made me ride in the back seat, when I Clearly called Shotgun!"