Quote:
Originally Posted by
Gary Kaney
I'm glad i'm not the only one here that is a Model 70 slut, but then on another note i bought 2 FN TSR's over the last 2 years (223&308) and i like them.
Nope, your not alone.
There is no problems finding any part imaginable for a Model-70 either.
Add that to the integral recoil lug (vs a recoil lug/washer between bbl & action, Rem 700), & Winchesters 3 position safety, & there's a BUNCH of us Model-70 sluts
There are tons of pros & cons for both Rem, & Win actions. They both have enough positive attributes that you can't go wrong with either. Tons of customs, & bench guys building on both.
I just had a long action Model-70 XTR (push feed-no claw) 30-06, converted into a long action 300WSM, with a 26" Hart bbl, #4 contour, fluted, mini muscle break, throated long for 200gr Accubonds, yada yada you know. Dang thing drives tacks!
You don't necessarily "need" a controlled round feed action to have a rock solid, deadly accurate, custom.
But the nostalgia that goes with the pre 64' is pretty cool! & admitidly, I'd have had mine built on a pre 64' or CRF(new extractor claw design) action if I had easy access to one with minimal monetary, or sentimental value. But my ol' -06 was just collecting dust, & now has new lofe breathed into it. I love my Winnie's. Factory, or Custom, pre64', push feed, & CRF.
So, no, we're not alone. Theres tons of is Model-70 sluts. In fact, theres Many here on LRH
__________________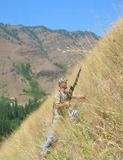 "Its not Rocket Surgery.....'
GOD,GUNS,&GUTTS MADE AMERICA, LETS KEEP ALL 3!winmag
"I have No idea why that cop made me ride in the back seat, when I Clearly called Shotgun!"