Re: The World Is Changing Rapidly
---
I hate ''progress''. It always seems to lead to something I dont like.
Somebody needs to figure out how to limmit ''change and progress'' to only a few things that will bennifit from it.
Heres a few examples;
1-Reloading powder-room for progress, wish I could get some ''superformance'' powder to load with.
2-Optics-room for progress, finally design the ''perfect'' scope for everyone(although not likely to happen)
3-Tires-room for progress, Id like to have a set of mudd tires that last more than 30,000 miles
4-Medical technology-room for change, A cure for cancer would be great!
**The rest are best kept un-changed or reverted back to the way it used to be**
IN MY NOT SO HUMBLE OPINION
Forgive me for kicking and screaming into the 21st century, but I dont know how much ''progress'' I can take. Learning to turn on a computer by myself so I can read L/R/H is as technologicaly advanced as I get.
Great, now I have a beef with Utah ODFW. I got too many beefs already........
__________________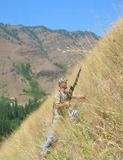 "Its not Rocket Surgery.....'
GOD,GUNS,&GUTTS MADE AMERICA, LETS KEEP ALL 3!winmag
"I have No idea why that cop made me ride in the back seat, when I Clearly called Shotgun!"