Re: Rifle stock
---
Quote:
Originally Posted by
MTBULLET
best bet is to post a WTB add here or on the other browning chat sites, or a new replacement from some of the sponsors here.
+1 with MTBULLET.
You might also check out Richards microfit gunstocks. They have factory seconds for some models. As far as ordering a new complete stock from them, Ive hered 50/50 feedback. Half the folks that buy Richards stocks love them and the other half absolutely hate them. I was going to order a custom stock from them, but decided against it due to conflicting feedback. Factory seconds tho, may be the least expensive best bet. Good luck
__________________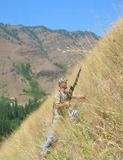 "Its not Rocket Surgery.....'
GOD,GUNS,&GUTTS MADE AMERICA, LETS KEEP ALL 3!winmag
"I have No idea why that cop made me ride in the back seat, when I Clearly called Shotgun!"