Re: Nosler plant explosion
---
Thank God everyone is ok. Buy you bullets quickly guys. I was at the local sportingoods store less than 1 hr after Nosler made the news. Theyre bullets are FLYING OFF THE SHELF! Litteraly 2 guys called and were racing eachother to the store cash in hand to clear the shelves of anything Nosler. I live about 15 min from Nosler, and if its that bad here...................
__________________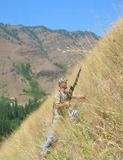 "Its not Rocket Surgery.....'
GOD,GUNS,&GUTTS MADE AMERICA, LETS KEEP ALL 3!winmag
"I have No idea why that cop made me ride in the back seat, when I Clearly called Shotgun!"