How our day started this lovely 4th of July morning …
---
- US flag displayed
- 0530 quick hike (~ 2 hours) with Mom and Thor.
- Thor had a blast:
-- 1st encounter: Lots of sprint chases and almost got a rabbit for breakfast if
he didn't change prize (mature doe)
-- 2nd encounter: Flushed and chased a mature doe; beeped, chase ended. Thor went
back to the draw; heard series of bleat calls, followed by a distress calls. A fawn
emerges out of the bush stumbled as Thor did the prey pursuit. Zapped him once,
pursuit ended. Fawn slowly walked up to me and stopped, closed enough where I
could have picked him/her but did a quick assessment instead. Fawn walked away
OK, no blood or cuts (best I can tell) and met up happily with Mama doe.
-- 3rd encounter: Almost got a rabbit but was out-maneuvered by quick turns and
overwhelmed by previous encounters.

The day is still young ...
__________________

I voted for my "FREEDOM", "GUNS", and "MONEY" - keep the change - UNK.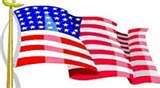 "I am always proud of my country!"
"Leadership Rule #2: Don't be an ***hole." - Maj Gen Burton Field.