Re: Gifts at hunter safety classes.
---
Buttler Creek flip cap, scope caps, or a bikkini cover would be right in there. Hand warmers, rag wool gloves, or a headlamp or flashlight on sale would be handy, Flagging ribbon, or a bore snake or a magnesium fire stick. Heck I saw a camo camelback at Bi-mart with like 3 pockets for $15 today the possibilities are endless depending on where and how you hunt. Theres tons of usefull stuff for cheap.
Thats pretty cool doin that for the kids! Hats off to you guys!
__________________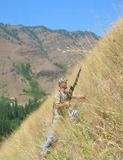 "Its not Rocket Surgery.....'
GOD,GUNS,&GUTTS MADE AMERICA, LETS KEEP ALL 3!winmag
"I have No idea why that cop made me ride in the back seat, when I Clearly called Shotgun!"