I couldnt see a pic, but dont Rugers have a 2 piece front sight? Drift over top of front blade to get to the screw under it on the ramp?
I may be way off here, but I thought they did. You probably already checked this, so its kinda like kicking the lawn mower and then looking to see if it has gas. But I thought they had a 2 pc. front sight removable in that fassion. Good luck Roy.
Hey let me know if you wind up going to the ''auto parts store'' to see your ''buddy'' about some new fangled tool you need
. And look on the bright side. If you screw it up you should have plenty of superglue on hand to ''fix'' it with. Im sorry Roy, but I just keep laughing my butt off over those two posts in one week. Your like the crazy uncle every boy dreams of having to teach them the important things boys need to know. YOUR MY HERO ROY!
__________________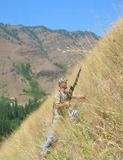 "Its not Rocket Surgery.....'
GOD,GUNS,&GUTTS MADE AMERICA, LETS KEEP ALL 3!winmag
"I have No idea why that cop made me ride in the back seat, when I Clearly called Shotgun!"