Re: A Father's Proud Moment
---
Hey Feenix, thats Awesome!! Congrats man. Like Roy said, you SHOULD be proud. Scholarships are NOT easy to land these days. Those two awards speak HIGHLY of your son. Congrats to both, and thank you to the one serving also.
__________________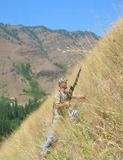 "Its not Rocket Surgery.....'
GOD,GUNS,&GUTTS MADE AMERICA, LETS KEEP ALL 3!winmag
"I have No idea why that cop made me ride in the back seat, when I Clearly called Shotgun!"