Re: Drop Camp Elk Hunt ?
---
You could try Moss Springs out of LaGrande Or. Theyre reasonably priced, and thier bow hunters usually get into elk. Also Might try Deadwood Outfitters,the Carters out of Baker Or. They guide and do drop camps in Idaho. I went to college, and rodeo'd with thier daughter at T.V.C.C. And theyre family has a very good name in Baker Or. Honest good folks. Either of these would probably be good to try out for Oregon or Idaho.
Also towards the bottom of the main page, L/R/H has a list of guides who are long range friendly.(I dont know if this pertains to archery or not)
__________________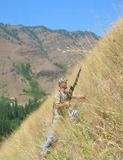 "Its not Rocket Surgery.....'
GOD,GUNS,&GUTTS MADE AMERICA, LETS KEEP ALL 3!winmag
"I have No idea why that cop made me ride in the back seat, when I Clearly called Shotgun!"