Re: Winchester Classic Sporter
---
Made by FNH? Pre or Post M.O.A. trigger? 3 screw pre-64', or classic sporter with or without ectractor claw? Need more info.........
I have a few Winchesters, and love them. I dont yet have the new FNH made ones yet......... but I will Im sure.
__________________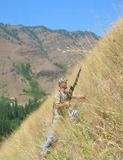 "Its not Rocket Surgery.....'
GOD,GUNS,&GUTTS MADE AMERICA, LETS KEEP ALL 3!winmag
"I have No idea why that cop made me ride in the back seat, when I Clearly called Shotgun!"