Quote:
Originally Posted by
cummin_un_glued
ok so i want to rebarrel my vanguard long action from 7mm rem to 7mm RUM with a 28-30" straight fluted barrel with a brake on it. so what shops do yall know of that do prefit barrels for the vanguard long action?
Hart barrels can install one of thier barrels on your action.
Not sure what you mean by prefit barrels.... If your going 28-30", & strait flute, those are options.
Imo I'd talk to a few gunsmiths here on LRH. Find out what all is involved. Usually its a bit more than screwing on a new pipe.
"shortgrass" (Teds Custom Shop)
"coyboy" (Jim See)
"308nate" (Nathan Dagley)
JE Customs,
Shawn Carlok, DefensiveEdge
"Fiftydriver" Kirby Allen
To name just a few.
The list of top notch builders, & smiths here is seemingly endless.
__________________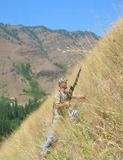 "Its not Rocket Surgery.....'
GOD,GUNS,&GUTTS MADE AMERICA, LETS KEEP ALL 3!winmag
"I have No idea why that cop made me ride in the back seat, when I Clearly called Shotgun!"