I don't know what you mean by "custom", but Weatherby cartriges typically need that freebore or pressures SPIKE, which is why Wby rifles, chambered in Wby cartriges, have a ridiculous amount of freebore.
Now, if you had it built w/o freebore then you had a reason, & can tune your loads accordingly.
As far as "finding the lands" goes. Load an empty case with one of your bullets seated looooong. Try & close the bolt Gently.
*this will far exceed your mag length*
Likely there will be some resistance. Turn your seating die a little deeper, & re-seat your bullet.
Repeat the process untill you know your very close to being able to close the bolt.
Then use a sharpie to color the bullet (or a candle to "smoke" it) & continue the process untill you can completely close the bolt, but the lands just barely leave a mark on the ink, or smoke.
Ay that point you know where your bullet touches the lands, & can adjust your c.o.a.l. accordingly for your bullet, load, & cartrige.
I'd personally back off a ways from there. I don't like things blowing up near my face.
__________________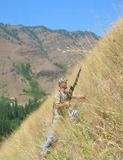 "Its not Rocket Surgery.....'
GOD,GUNS,&GUTTS MADE AMERICA, LETS KEEP ALL 3!winmag
"I have No idea why that cop made me ride in the back seat, when I Clearly called Shotgun!"