I load for 3 of them. 2 featherweight Model-70's, & 1 Coyote Model-70. All 3 shoot 140 Accubonds between .010-.015 off the lands into easy SUB MOA groups with between 61-63 gr of RL-19.
I swear RL-19 was tailor made just for this cartrige.
Super easy to load for.
Anyhow, I've shot a few Deer, & 2 Black Bears & a couple Elk (my cousin shot) have fallen to that load combo. I absolutely love mine.
Bigngreen smoked an Elk with 165 Matrix bullets past 800, or 850. It's posted here, & on YouTube.
It's a very versatile cartrige, & for me personally, the best Deer cartrige out there that can double as my back up Elk rifle. I can't say enough good things about it.
You've got a winner.
__________________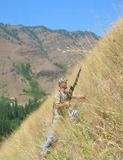 "Its not Rocket Surgery.....'
GOD,GUNS,&GUTTS MADE AMERICA, LETS KEEP ALL 3!winmag
"I have No idea why that cop made me ride in the back seat, when I Clearly called Shotgun!"