Re: stock removal??
---
In Oregon our seasons are SHORT!!! So if I'm hunting in crappy weather, my rifle gets wiped down daily, but the stock doesn't get removed untill after the season. I don't want my p.o.i. changed when torqing my screws down. I shoot & confirm my drops after everytime I remove the stock (usually after bear season- for dust, deer season -if its nasty rainy, & after Elk season -snow/rain etc) that's about it now that I think about it. 3 times a year, maybe more if I wanna work on it, or I'm out in Rotten weather.
__________________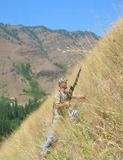 "Its not Rocket Surgery.....'
GOD,GUNS,&GUTTS MADE AMERICA, LETS KEEP ALL 3!winmag
"I have No idea why that cop made me ride in the back seat, when I Clearly called Shotgun!"