Re: Remington R-25 .243 or 7mm 08
---
Try a P.M.to jasonprox700. He's helped me out before on AR style info.(Bear hunting thread ''R-25 308 for bear?'') Seems very knowledgable and very polite. Owns a few and knows R-15 VS R-25 (aka Bushmaster vs DPMS.) Knows who is a reputable smith etc.
If you get one post your thoughts on it as Im still ''wishing in one hand...'' and waiting for my pocket book to catch up with my wish list.
__________________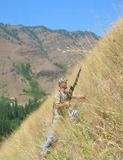 "Its not Rocket Surgery.....'
GOD,GUNS,&GUTTS MADE AMERICA, LETS KEEP ALL 3!winmag
"I have No idea why that cop made me ride in the back seat, when I Clearly called Shotgun!"