Re: Opinions needed on the Remington R-25 308 as a precision hunter
---
Send Jasonprox700 a P.M. He's pretty ''up'' on the AR platform, and the differences between the manufacturers etc.

I wish they made one in a 300wsm!!
__________________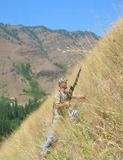 "Its not Rocket Surgery.....'
GOD,GUNS,&GUTTS MADE AMERICA, LETS KEEP ALL 3!winmag
"I have No idea why that cop made me ride in the back seat, when I Clearly called Shotgun!"