I've got 140gr Accubonds in .277cal (270 WSM)
165, 180, & 200 gr for 30 cal, (30-06, 300Wby,
300 WSM
, 300 Win)
& 225's for 338cal. (338 Win.)
I love em.
Deer, Elk &, Bear all died to Accu-bomb!
__________________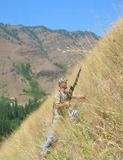 "Its not Rocket Surgery.....'
GOD,GUNS,&GUTTS MADE AMERICA, LETS KEEP ALL 3!winmag
"I have No idea why that cop made me ride in the back seat, when I Clearly called Shotgun!"