Re: Magnaport vs Muzzle brake
---
Thank you all very much. Very usefull info. I was leaning toward the brake anyway, but now it seems the only choice. I have a Win. Model-70, 300wby that only has a 24'' pipe factory from Winchester so loosing 1 1/2'' of bbl with the magnaport would be rediculous.
What are some good brakes to look into? Ive hered good things about Painkiller, and 308 Nate's brakes, and I think Ridgerunner mentioned (Holland)?
Are these brakes I can buy and have a local smith install or do I need to send my whole rifle accross the country? (FFL shiped?)
Do all brakes come with caps for hunting? Are any of these adjustable like a ''Boss'', so Id have to re-adjust every time I switch?
And lastly, would I need a smith to switch from brake to cap and back?
__________________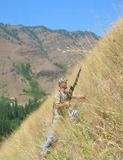 "Its not Rocket Surgery.....'
GOD,GUNS,&GUTTS MADE AMERICA, LETS KEEP ALL 3!winmag
"I have No idea why that cop made me ride in the back seat, when I Clearly called Shotgun!"