Re: M40 like--Walnut Stock Precision Rifle Build
---
IMHO..........Wood stocks are the only way to go for looks/feel/comfort etc, however......before anyone trys to lynch me for not liking tupperware..... It would be wise to get a walnut stock with an aluminum bedding block. And/Or a Laminate with a bedding block. This would curb the ''weather and temp'' issue of wood.
There are some great innovations with composits/fiberglass and so on, and they would not be so popular if there wasnt something to them. So either way would be a good option, but I just like my rifle to look sexy and feel warm and only wood stocked rifles can fill the nitch for me.
Now again before anyone jumps all over me for my Opinion, I have seen some down right awesome lookin setups that almost made me drool on the screen, on this site. But Im an old school fan at heart and dont plan on changing anytime soon.
Oh ya, and Im a Winchester fan too, but I dont know how cost effective the FN setup would be as I have 0 dealings with that route.
Good luck on your choice, and most of all get what makes YOU happy, and accurise and build it to what YOU want. Im sure youll get Tons of advise and probably most of it good advise too, so take the advise you can use, and run with it, and build YOUR rifle.
__________________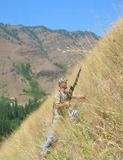 "Its not Rocket Surgery.....'
GOD,GUNS,&GUTTS MADE AMERICA, LETS KEEP ALL 3!winmag
"I have No idea why that cop made me ride in the back seat, when I Clearly called Shotgun!"