Re: Hornady B.C. question
---
HORNADY replied. The SST (and IB as well) 150gr .277 bullett IS .525 B.C. they made a typo, and appologise for the inconvienence.
__________________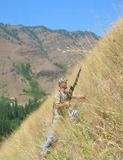 "Its not Rocket Surgery.....'
GOD,GUNS,&GUTTS MADE AMERICA, LETS KEEP ALL 3!winmag
"I have No idea why that cop made me ride in the back seat, when I Clearly called Shotgun!"